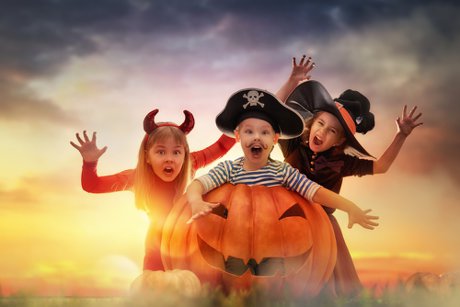 It's Halloween, Witches!
The nights are getting colder, there is a mist in the air and all is quiet in the run-up to All Hallow's Eve. But who wants to do quiet?
If you got it, haunt it! It's time to get those decorations up, brew the pumpkin punch, and let the ghoul times roll. If you want to step up your decorating game this year, you're gonna need some great new ideas though.
Read on for the best Halloween decoration ideas to get the spookiest house on the block.
It's a Boo-tiful Night for Halloween: But What Is It?
Halloween is a holiday we Americans love and it's celebrated on October 31 each year. The tradition comes from Samhain, an ancient Celtic festival. People would wear costumes and gather around bonfires to ward away evil spirits.
In the 8th century, Pope Gregory III set November 1 as a time to honor all saints, though some of those pagan traditions persisted. The evening before became known as All Hallows Eve then later morphed into Halloween as we know it.
Over time, Halloween is less about honoring saints and more about honoring our sense of fun. Children go trick-or-treating dressed up in the scariest costumes they can find. It's a time to gather and throw parties, carve jack-o-lanterns and play games.
Creepin' It Real with These Great Halloween Decorations
So, now that you know what Halloween is, it's time to embrace the spooky season. It's an important time for American households who like to go all out and light up the neighborhood. Here's how you can get involved, or up your decorating game.
A Pumpkin a Day Keeps the Goblins at Bay
If you want a Halloween decoration that won't look out of place all Fall, we have a treat for you. Go for classing over chilling with a set of glass pumpkins.
They come in a set of 3 different, distinct shapes with timed LED lights inside for a spooky glow. Set them to cut out in the middle of the party, plunging everyone into darkness for some screams.
Outside of Halloween, they give off a warm glow, offering the perfect comfort Fall brings. They are a very versatile home decoration to get your house ready for fall.
Eat, Drink & Be Scary
This home decoration for Halloween is practical as well as spooktastic. These snack bowls shaped like witches' hats will stand out in any snack graveyard.
A tabletop broom sits on a stand, where it holds up these bowls for all to see. With the option of 3 hats or 5, they're perfect for any size party.
I've Got a Bone to Pick With You
If you want to spook your guests right as they walk in, Lowe's 7-foot Skeleton doorman will do the trick. He's dressed in a dapper striped suit, with a top hat and Oxford shoes to boot. His eyes light up with glee as he utters one of 5 sayings to whoever has the misfortune of walking through your door.
Zombies Are So Overrated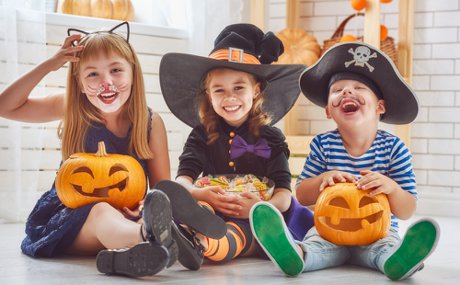 When it comes to decorating for Halloween, why have a zombie when you can have a zombie unicorn? For all the My Little Pony lovers out there, add a touch of magic with this 8-foot inflatable.
It comes with built-in bright lights and a fan to blow it up. There are ropes that come with it too so it won't go prancing off on its own magical adventure into the night.
Pick Your Poison
Whether you're hosting an adult-only party or want to make a spooky punch for the kids, wine glasses are a must. They're one of the best Halloween decorations because they offer practicality, too.
And Pottery Barn has the perfect decoration with their skeleton drinkware. The range includes:
A double traditional glass
A champagne flute
A stemmed wine glass
A stemless wine glass
They're the perfect, classy touch to complete any adult's Halloween party ... whatever your poison of choice is. There's something for everyone.
"Life's No Fun Without a Good Scare"
Nightmare Before Christmas was a film that merged two of our favorite holiday themes. So, there's no decorating a home without the iconic Jack Skellington. In this inflatable decoration, he's sitting on top of a purple Spiral-Hill.
At 9 feet tall, it'll make an impact on all those guests and trick-or-treaters visiting your home. Inside are energy efficient lighting, to make it pop even more against the dark night sky.
The inflatable is self-inflating and the kit comes with tethers and stakes to keep it in place. But this easy-to-set-up decoration is versatile as it's designed for both indoor and outdoor use.
I'm Watching You
Next up is an eyeball doorbell that will have the hairs standing up on the back of your neck. It's a great way to get some jump scares out of the trick-or-treaters on October 31.
The haunting eye opens and lights up when you press the bell and it'll make a range of spooky sounds. Then is a ghoulish voice, it will murmur welcome to all those who dare to enter.
If you're not expecting it, it'll cause quite the fright. All you need is 3 AAA batteries to get going. These aren't included in the package.
You Won't Suck the Life Out of This Party
For those decorating a house ready for Halloween parties, don't neglect the drinks. You'll want to make sure you keep them cold for guests to enjoy.
This inflatable coffin cooler can help you do that in a way that's sure to draw some creeped-out smiles. Who wouldn't want to pick their drink out of an open coffin, after all?
This cooler is 3.5 feet in length, so it'll have plenty of room for drinks and ice. Whether you're partying on the deck or inside the home, it's durable enough for both indoor and outdoor use.
Home Is Where the Haunt Is: Halloween Decoration Ideas to Die For
Halloween decoration ideas are a chance to get creative and push for those scares. But with technology advancing, it allows decorations to add a little practical magic, too. When people see what's up your sleeve this All Hallow's Eve, they're sure to be in for a spooktacular time.
And if you're looking for the perfect haunted house to decorate, check out our property search. At JW Martin, a haunting we will go in our dedicated search to find your dream property.
More Articles: