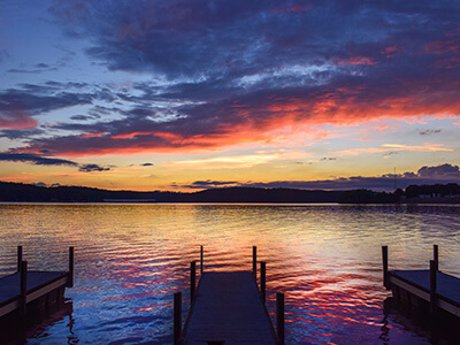 You made it through yet another winter, but now you're serious about relocating and escaping the snow, long commutes, and the high cost of living. High on your list are quality of life, affordable housing, a temperate climate, and an excellent place to raise your family.
Living in South Carolina seems to have a lot to offer. So, what are the best cities in South Carolina? You've seen good things about the northwestern part of the state, how about relocating to Clemson? Living in Clemson, lakefront living on Lake Hartwell, or lakefront living on Lake Keowee might tick all the boxes. And having Clemson University there adds a lot to entertainment and community life.
So let's take a closer look at life in Clemson, SC, and see what makes it one of the best places to live in the South.
Living in Clemson
Is Clemson a good place to live? Starting with the obvious, Clemson is a college town, home to one of the country's top public research universities. There's no doubt that the city and school's special relationship goes a long way in explaining why Clemson has so much to offer.
With a population of 16,500 (and another 20,000 plus college students), Clemson is small enough to be highly livable and large enough to offer everything you need. Oh, and those long commutes? Forget it. The average commute is 18 minutes - and gas costs less than the national average!
In terms of demographics, Clemson is young - all those college students - and highly educated. 60% of residents have bachelor's degrees, and 15% hold doctorates.
Is Clemson a safe city? Yes, and Clemson is very family-friendly, with roughly 40% of Clemson households being home to young children. In addition, the local elementary, middle and high school (D.W.Daniel High School - built 1n 2010) consistently rank among the best in the state.
Affordability
Are you looking for affordable living in the South? Clemson's cost of living is well below the national average - almost 13% less. With lower prices for gas, food, and all of the other essentials, Clemson ranks as highly affordable. And that extends to affordable housing.
Whether you're looking at homes for sale in Clemson or lakefront living on Hartwell or Keowee, the average home costs less than the national average. As a result, property taxes are proportionately lower, too.
And with 41% of Clemson residents owning their own homes, rental options are extensive. Renting in the area while your realtor searches for the perfect home for you to buy is a popular option for newcomers.
The Clemson area offers affordable southern living to suit any taste and budget, from waterfront communities to condos, from historic homes to modern subdivisions.
Economy
Within the city limits, Clemson businesses and institutions employ about 8,000 people. Unemployment is low - again, much lower than the national average.
Not surprisingly, 30% or so of the jobs are related to the University's role as the area's prime economic driver. Education, retail, hospitality, professional services, manufacturing, and a growing number of entrepreneurs also play a significant role in the area's thriving economy.
Although average household incomes are slightly below the national average, Clemson's affordability and much lower cost of living more than offset the difference.
Dining
Clemson's vibrant dining scene offers food for any taste, budget, and occasion. Carolina barbecue or fresh sushi, raw oysters, or low country boil? Not a problem.
Clemson's homegrown dining options range from southern cooking to creative, farm-to-table cuisine. Of course, you'll find all the casual options you expect to see in a college town - fresh pizza, outstanding burgers, ethnic food for every taste.
Clemson is home to a surprising number of upscale restaurants for a small city. Classic American cuisine, fantastic steak, and seafood - Clemson has it all.
If you're just in the mood for tried, true and fast, most of the major national chains have local outposts too. But, whatever you do, don't forget to try the University's own beloved Clemson ice cream!
Things to Do
Life in Clemson offers a list of attractions that far outweigh its family-friendly size. Buying a home in Clemson means you have a long list of things to do.
South Carolina's 295-acre Botanical Garden, home to thousands of species of native plants in natural and cultivated gardens, offers classes and demonstrations. Also on the grounds is the Bob Campbell Geology Museum, housing more than 10,000 minerals and fossils.
Sports fans know Clemson University's Memorial Stadium - Death Valley - as home to the Clemson Tigers' top-ranked NCAA football team. Since it was built in 1942, the stadium has been renovated several times and now seats 81,500 fans.
The historic homes dotting the area, including Fort Hill, Hopewell Plantation, and Hanover House, are well worth a visit.
Brooks Center for the Performing Arts hosts stellar musical, dance, and theatrical productions in its 979 seat auditorium. Or take art classes in drawing, ceramics, photography, and more at the Arts Center of Clemson.
The Great Outdoors
Nestled against the foothills of the Blue Ridge Mountains, Clemson is at the center of an outdoor paradise. Take a hike in Clemson's 17,500-acre experimental forest on more than 100 miles of trails.
With more than 200 recorded species, the reserve is a birdwatcher's paradise. Like waterfalls? Hike to Six Mile Creek Falls, Wildcat Falls, Waldrop Stone Road Falls, Todds Creek Falls, and Meadow Falls.
If walking with a bag of clubs is more your style, Clemson's Walker Course - one of the top collegiate golf courses - is accessible to the public. A par 72, 6911-yard course, it's known for the signature 'Tiger Paw' green at the 17th hole.
Clemson's parks - large and small - offer everything from fountains to walking trails along the lake to sports fields.
Are boating and fishing your passion? You'll love Lake Hartwell. A 56,000-acre reservoir fed by the Savannah, Seneca, and Tugaloo Rivers, Lake Hartwell connects South Carolina and Georgia.
Small and largemouth bass, bream, catfish, crappie, and stripers make exceptional fishing.
Take the Next Step
Affordable, family-friendly, great quality of life, Clemson has it all. And now is the time to take the next step towards living in Clemson and leave the snow behind! Contact an experienced, trusted, and knowledgeable realtor who can partner with you to find the perfect Clemson real estate.
More:
Home Buying: How Much Can You Afford