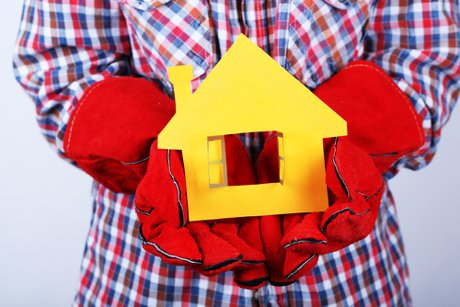 Is home maintenance becoming a home nightmare?
Part of the responsibility of home ownership is keeping it well maintained. But with so many tasks to do, it soon can start feeling like an overwhelming, never-ending journey.
That's where we can help! Keep reading for these 14 top home maintenance tips to help you maintain your home an its value.
Seasonal Maintenance Tips
First, let's start with breaking down the year by the seasons. We'll go through some tips that you should do in spring, summer, fall, and winter.
Spring
Spring is a good time to look at the year ahead and work out what you need to get your home through it.
1. Service the HVAC Unit: Home repairs soon spiral so preventative maintenance is key. Call out a professional HVAC technician to service your unit ready for summer. You should also follow instructions on how to change the air filters and keep them clean (AC filters should be changed every 30 days for best results. Additionally, you should consider having an AC Technician inspect your cooling system and coils for cleanliness and efficiency.
2. Drain Your Hot Water Heater: Another of the property repairs that can add up is a broken hot water heater. Debris and sediment will build up so you need to drain the water out to clean it out. Clean out that sediment and you'll help your water heater last longer and work more efficiently.
NOTE: a conventional tank type water heater will consume the most energy in your home hence, its the most expensive on your utility bill. If its time to replace your old water heater consider a tankless unit.
3. Check the Windows and Doors: A good property maintenance tip is to check the windows and doors. In spring, replace or repair weather stripping. Check the locks and latches still work and that no panes or windows need replacing.
4. Check the Kitchen Appliances: Make sure your stove and range are working as they should. Clean the gas range ignition, or if it's electric, the range burner prongs. Give the microwave and oven a thorough clean too. Cleaning will make your home nicer to live in and can even boost its value.
Summer
In summer the weather is often much drier and warmer so it's time to make use of it to get some jobs done.
5. Check the Plumbing: As part of your summer home upkeep, look around for leaks in the house. Check pipes under sinks, look for stains on walls and ceilings and test toilets work as they should.
You also want to check that shower heads and faucets aren't dripping or leaking. Clean the aerators inside them to remove any mineral build-up. Inspect sink, bath, and shower caulk and replace it where necessary.
Last of all check the temperature pressure relief valve inside the water heater. If anything goes wrong, it should be cheaper to find a water heating repair service in summer than in winter.
You can find more plumbing maintenance tips here
6. Clean Out Chimneys and Fireplaces: You should have a professional inspect your chimneys. If you find chimney swifts have made a next, you'll have to wait until fall to clean out your chimneys.
7. Wash the Doors and Windows: You can do it in spring, but it'll be warmer in summer to power wash your home. Take a window cleaning solution to go over the windows and doors too. Or you can hire a regular window cleaner to do it for you.
8. Clean Up the Garden: Weed, aerate, mow and water your grass, plants, and yard. Power wash and sweep any decks and patios to have them looking their best. In the summer months, you'll likely want to sit outside more, and that's much nicer in a healthy, tidy yard.
Fall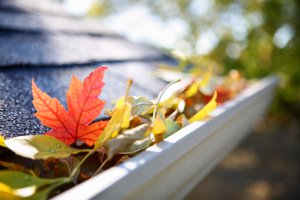 The leaves are starting to all and the evenings are starting to bite. Winter won't be far off so it's time to start preparing.
9. Remove Fallen Leaves: While it's beautiful to look at, falling leaves can be a nuisance. For basement window wells, you may need to clear them every month. You also want to check gutters and keep them clear of leaves and debris too.
10. Test the Detectors in the House: Test each smoke and carbon monoxide detector. You the very least, you need to do this each quarter but it might be worth doing it monthly to keep on top of it.
11. Check the Garbage Disposal: This is a must on any good home maintenance checklist. Measure out 1/2 cup of baking soda then pour into the drain. Leave it for 3-5 minutes.
As you wait, mix 1 cup of vinegar with 1 cup of hot water and pour it down the drain when it's time. You can cover the drain with a plug and leave it for 10-15 minutes.
To flush it through, use a pot of boiling water. Make sure you then check the fixtures and make sure they're screwed in place. If not, tighten things up as needed.
Winter
The cold weather will start coming in hard and fast now. It's one of the harshest seasons for your home, so be extra vigilant during these frigid months.
12. Protect Against Frozen Pipes: If you're going away for the holidays, frozen pipes are a worry. To prevent this, you want to set the faucets to run at a steady drip. You should also keep the thermostat at a constant 55°F or higher.
13. Keep an Eye on Your Basement: Look for any leaking or damp patches forming in your basement. If you see anything suspicious get it looked at right away and repaired. If you have a dehumidifier, clean it, if you don't then consider getting one.
14. Check Your Home's Exterior: Rake and remove any leaves remaining from the fall. Keep snow shoveled and look at the gutters. Make sure they're clean and water can flow, you don't want any water backups. This can cause the gutters to freeze and burst, or form dangerous icicles.
Home Maintenance Tips You Won't Want to Miss
These home maintenance tips are there to show you that home upkeep doesn't have to be daunting. You can do them over 1-2 days, or you can break it up over a week, whatever works for you. All that matters is you get inspired and take pride in the home you love.
If you haven't found that home to be proud of yet, contact us today. At J W Martin, we've made it our mission to help get you into the home of your dreams.