The time has come, and you've finally decided to make one of the biggest choices you'll make in your life. You're going to sell your home.
If you're among the over six-million people that decided to sell their home this past year, you understand selling your home takes more than just putting a "For Sale" sign in the front yard. If you truly want to garner the best possible price for your home, despite the market, you need to set aside time, a little bit of money, and a lot of energy.
Once you've put in the time and energy and paid the money for the necessary improvements, you won't regret it. By the time you've finished reading this article, you will understand how preparing your home for sale will help you score the premium price and put more money in your pocket than you imagined.
Clean Up
Begin by cleaning up your home. If this feels a bit overwhelming to you, you can clean your home in stages. Recruit the help of friends and family one day at a time to complete this task and start with decluttering. Or, hire a professional cleanup service that has the resources and knowledge.
DeClutter
Begin by getting rid of any clutter that is taking up space in your home. Start with just one room, and make three piles. Create a "sell," "give away," and "throw" pile. Then start your sorting.
If you're especially attached to items in your home, this is where you may need to ask a friend or relative to help you make the hard choices. You can even hire a professional organizer to help you.
A third party will help you make difficult decisions more objectively. They may even have a method or litmus test for you to follow. For example, some professionals recommend you get rid of anything you haven't used within the last year.
A professional organizer will cost you a bit of money. Some charge thousands of dollars to declutter an entire home. But you will gain back the money on the final price of your home.
This type of test works well for items like clothing but not as well for seasonal items like decoration or items that may have sentimental value. Regardless, you cannot effectively move into the other parts of preparing your home until you've removed the excess clutter that is taking up space in all the nooks and crannies of your home.
Deep-Clean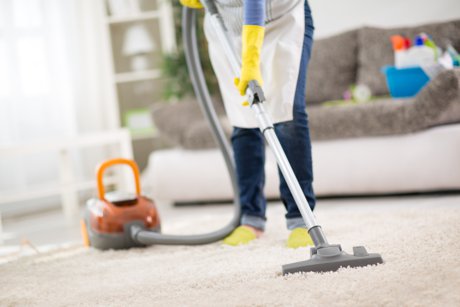 Once you've decluttered your home, you can begin the process of deep cleaning. This type of cleaning may also require some professional help. Here are a few basic deep cleaning tasks:
Clean light fixtures
Wash walls
Wash and iron curtains
Scrub kitchen and bathroom cupboards
Have carpets deep cleaned by a professional
Not only will you need to deep clean your home, but you will need to keep it clean. This is one of the more difficult parts of selling your home is making it look like no one lives there. You will need to establish a few new routines, especially if you have children, to assist with selling your home.
Organize Your Closets
In your process of cleaning the house, do not neglect your closets. Would-be home buyers like to look in every nook and cranny of a home when they're taking a tour. If you have a cluttered, filthy closet, they'll wonder what you're hiding and move on to the next house.
Also, when you have an organized closet, you show the homeowner how you maximized the space, making the home even more attractive.
Use a Realtor
Many a homeowner has tried to sell their home on their own. They clean the house as directed above and then plant a "for sale by owner" sign in their front yard. While they may indeed sell it, they are more likely to get their top price if they use a professional realtor.
Use a realtor if you want to sell your home right. Here are a few reasons why.
They Understand Pricing
When you list your home with a realtor, the realtor will first visit your house. They will conduct a walk-through and note any areas of the home that you should modify or fix before you list them. The changes are usually simple such as painting a room or replacing a broken doorknob.
Most importantly, though, a realtor will give you a ballpark figure on what they believe you can get for your home. They best understand the market in your area and know what other homes like yours sell for.
If you want to sell your home quickly, you'll need a competitive price. The realtor will know that number. Many realtors will give you a free comparative market analysis.
Use a Top-Rated Realtor
A bad realtor can ruin the sale of your house. You will end up receiving less than the house is worth, and the realtor may even mess up the paperwork, causing you to lose money and time.
A good realtor will monitor the market and be able to appraise your home accurately. They will spend time watching the Multiple Listing Service or MLS. This allows them to understand what properties are currently going on the market as well as comparable homes in your community.
Great realtors will also be able to give you housing market tips and advice. They'll know how best to prepare your particular property for sale.
Hire a Professional Photographer
We no longer live in a solely face-to-face world. The first time most buyers will see your home will be online. So, you want the pictures to attract them to come to visit your home. A professional photographer will know best how to showcase your home.
Often, we think the best smartphone out there can capture the photos we need. While a smartphone has much more capability than cell phone cameras of the past, the operator makes difference with pictures. A professional photographer will understand how to capture angles that make your rooms look at spacious and attractive as possible.
More importantly, a professional photographer will know which pictures will best sell your home. You will sell your home more quickly and attract competitive buyers if you spend some money on a professional photographer.
Neutralize and Brighten Your Home
Once you've sold your home, it won't be your home anymore. So, you need to neutralize it, giving the buyer a chance to see a home they can picture themselves living in.
Remove all personal items. Take the family pictures off the wall and replace them with attractive artwork. Take down the trophies and kid's art and create wide, blank spaces.
The less personal your space, the more potential a buyer can imagine themselves living in the house. You don't have to throw your things away, but rather store them. Rent a storage unit for a short time for your extra personal items if necessary.
Remove Potentially Controversial Items
In addition to personal items, remove any polarizing memorabilia. This includes religious and political items that could stir up feelings in your buyers. Many individuals harbor strong feelings about politics and religion and such paraphernalia will turn them away from buying a home.
Brighten Your Home
Eliminate the dark corners of your home by turning on the lights. Do anything you can to eliminate these dark spaces including adding more light.
You can also brighten the outside of your home by painting accents and the mailbox. Then turn to your kitchen cabinets and give them a good scrub and polish to make them shine. Replace low wattage bulbs with higher wattage bulbs, and install sheers in your windows instead of heavy drapes to let more light in.
Light-filled rooms will energize your potential buyers and allow them to see the life of your home.
Stage Your Home
Home staging means you're preparing the home for the buyer or setting the stage so they can picture themselves in the home. This includes doing all of the things mentioned in this article and more.
Home staging matters. Recent surveys indicate that 82% of buyer's agents state prospective buyers can best visualize the property when the seller takes the time to stage it.
While you want unnecessary clutter gone, you don't want a blank canvas. You need to put furniture in key rooms like the dining room, living room, master bath, master bedroom, and half bath. If you've already moved out and taken your furniture with you, you may have to rent furniture.
Virtual Staging
You don't necessarily have to rent furniture if you want to stage your home. Some firms will offer virtual staging when they digitally add furniture to the photographs of your rooms online. This service costs a little bit of money but not as much as renting real furniture.
It also lets you furnish a space in a way that you wouldn't normally do when you stage the space traditionally. For example, you can put a ping-pong table in the rec room, even if you don't own one.
Prepare a Home for Sale Today
Preparing a home for sale takes time and effort, but all of the time and effort pay off in a higher price and quicker sale. Take time to declutter, clean, and stage your home. Then hire a great real estate agent who can help you find the best price.
Do you want to sell your house for even more than it's worth? Take a look at our organization and contact us today. We specialize in real estate marketing and can help you prepare your home for sale, scoring you the best price possible.
More Helpful Articles: