Have you fallen in love with Fall home decor?
It's that time of year again when the nights get longer, and the leaves start to change. As the temperature cools, you'll begin to retreat into your home more.
They're a safe space and a sanctuary, so it's only natural that you'll want to decorate your home for the cozy season. But when you're not an interior design expert, it can be difficult to know where to start.
That's where we can help! Keep reading for these seven home decoration ideas to get your home Fall ready.
1. Hocus Pocus Focus on the Fireplace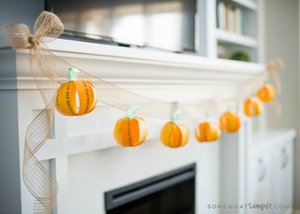 No fall season decoration guide could start without mentioning the fireplace. As we said, the cold will start to bite now, and your fireplace will become a focal point. This makes it the perfect starting point for your fall decoration efforts.
First, make sure you've had your chimney inspected and cleaned, ready for use. Especially if it's open and working. You can add candle holders and wooden photo frames for a rustic feel. If it's not an open fireplace, you can stack a few pumpkins and pinecones inside and around it for a pop of color.
Consider a garland too. Decorating for the season is great fun, so get all the family involved with a DIY pumpkin garland. Give each person a strip of orange paper and ask them to write why they love each other member of the family. Use these to create the pumpkins that will string together on your garland, showing off your love.
2. Magic Up a Monogram Pumpkin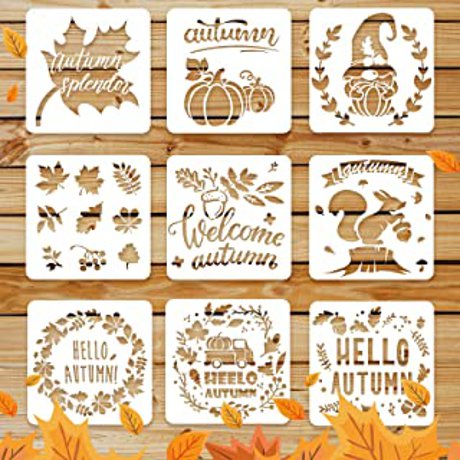 The next of our fall decorating ideas take the pumpkin theme further. A monogram pumpkin makes the perfect decoration for a fireplace display.
In fact, it'll look good anywhere in the home, from the dining table to the porch. Get yourself:
Some stencils (florals and leaves are a good fall choice)
A roll of painter's tape
A foam pouncer
Crafting paint (orange, white, browns, and greens work for fall)
Pumpkins (real or fake it's up to you)
Paint on a think block capital letter on each pumpkin. You could use the first initial of each family member. Or, you could spell out a fall-related word or phrase.
A pumpkin "Welcome" on the front porch would be a delight for trick-or-treaters, for example. Or even a spooky message.
Line the letters with the painter's tape and then tape the stencils over them. Use your pouncer to then dab on the paint colors of your choice to fill in the stencil shapes. Leave this to dry, then carefully remove the stencils and tape holding them.
3. Fall Into the Season with a Throw Blanket (or Six!)
Another perfect decoration for the fall season is a fall blanket (or a selection of them). Warm-toned throw blankets will keep you cozy as you sip your hot chocolate and watch the stars outside.
Taupe, sage, cream, and orange make the perfect color palette for fall. You don't need to have phrases or pumpkins here, in fact, a nice texture or mix of colors will go further.
Less is more, in some cases, especially if you have pumpkins and phrases elsewhere already. You can also layer up different rugs to create an even cozier, nest-like look to snuggle up in.
4. It's Alive! Bring Pumpkins Back to Life with Succulents
Pumpkins are a versatile vegetable; you can do more with them than just carving faces. Use smaller variants to create planters for some fall succulents. They're moist inside and will help the soil keep its own moisture and give the roots what they need.
Succulents don't need much watering, so these are low-maintenance seasonal decor items. If you already have a lot of house maintenance to do, this is a good way to get into the fall spirit without adding too much to your checklist.
You don't have to stop there though! If you want something larger, to add more variety, you can use butternut squash as planters too. It's also a good choice for those who want a seasonal feel without a direct link to Halloween.
5. Channel Your Inner Kitchen Witch By Adding Greenery
Whether as a Halloween decoration or a full-style choice, cauldron-shaped pots are a great touch. You can get them with little sayings on them like "herbs for spells." These are brilliant for growing your own herbs in your kitchen while adding some fall decor.
You can also add herb and garlic wreaths on outside doors or hanging from doorways. You could even weave them around the railings of your porch and hang them from the rafters.
Use some pine cones, weaved twigs, firs, and other evergreens to decorate for a natural look. After all, fall is a season that's all about nature and its changes.
6. Cast a Spell with Creative Wheat Displays
Nothing spells fall seasonal decor better than wheat sheaves. Tie a bunch together arranged in various heights and bind it with a fall-colored ribbon.
Place them inside bell jars (vary the size of these too for more effect) and use them for table decorations. You could also place them in the hallway or foyer on a side table, on shelves and bookcases, and in many other places too.
Add in pine cones, weaving sticks, and evergreens to get a genuinely unique autumn decoration. It's sure to cast a spell over anyone who sees it who will be dying to have their own!
7. Have a Howlin' Good Time With Pumpkin Puppies
Lastly, decorating for fall should involve the whole family, so this one is for the kids. After all, they do say teamwork makes the scream work! And any deck, porch, hallway, or fireplace needs some pumpkin puppies and squash hounds ready for the festive fall season.
Get the kids to pick out some tall pumpkins and butternut squash from the shop. Then recreate the "long face" look with strips of burlap and fall-themed fabric. Stick on some buttons for the eyes and complete the look with some floppy, droopy fabric ears.
Pumpkin Spice & Everything Nice About Fall Home Decoration Ideas
With cool nights and the promise of Halloween around the corner, fall is an exciting time. Of all the seasons, it's the one that probably inspires our imaginations the most and takes us back to nature. These home decoration ideas will help capture that imagination and inspire creations of your own.
And if you're looking for inspiration for a new home to decorate, then check out our property search. Whatever you're looking for, we can help you find the perfect home to add a little magic to your life.