Lake Keowee Homes For Sale

Looking for homes for sale near beautiful Lake Keowee? Lake Keowee, located in Upstate South Carolina, is a popular destination for home buyers. The area offers a wide variety of homes, from luxury lakefront estates to cozy cottages. If you're looking for a home near Lake Keowee, JW Martin Real Estate can help. We have a real estate office near the lake, and we have a wide selection of homes to choose from. Our agents are experts in the area and can help you find homes for sale near Lake Keowee that fit your lifestyle and budget. Give us a call today! Call Now
Buying a Home near Lake Keowee
About Lake Keowee
Lake Keowee homes serve residents from both the southeast and northeast. Named after the old Cherokee settlement called Keowee Town. Today many seek to have a vacation home on or near Lake Keowee located in South Carolina's Oconee County. Conveniently located 35 miles from Greenville, SC, 127 miles from Charlotte, NC, and 145 miles from Atlanta, GA. It is surrounded by both public and state parks providing activities such as boating, fishing, swimming, cycling and more. Winters are mild and the summer temperature is temperate.
Most homes in the area of Lake Keowee are purchased by those seeking retirement and enjoy lake and outdoor activities. For others the home provides weekend getaway, vacation and corporate retreat. You can browse and review a list of all the Keowee homes for sale at the bottom of this page. Buying a home in Keowee, SC is buying a lifestyle that is healthy and joyous.
Lake Keowee Area Activities:
Here is a short list of "To Do" around Lake Keowee, SC.
Boating - Canoeing
Fishing
Biking
Golf - Tennis
Hiking
Photography
Camping
Dining
Lake Keowee Area Information Assistance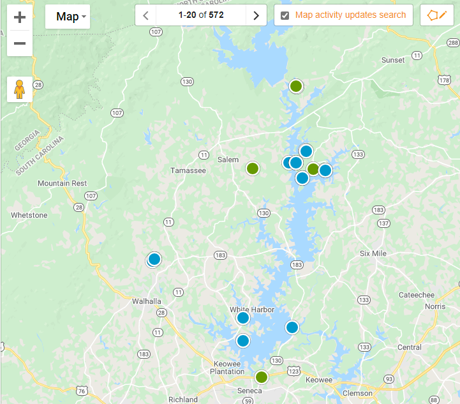 Lake Keowee and Keowee Key Guides are available to provide you with all the information, experience and tours of the area. Experience more of Keowee's beauty and activities, it free and a phone call away, schedule a tour
More Helpful Articles:
Do You Really Need a Real Estate Agent or Realtor?
How To Save On A New Home Purchase
Our Location Near Lake Keowee:
JW Martin Real Estate Lake Team
1231 Stamp Creek Rd.
Salem, SC 29676
Call Us: (864) 719-0503